1.Registering your store
Potential retailers can register via a registration form.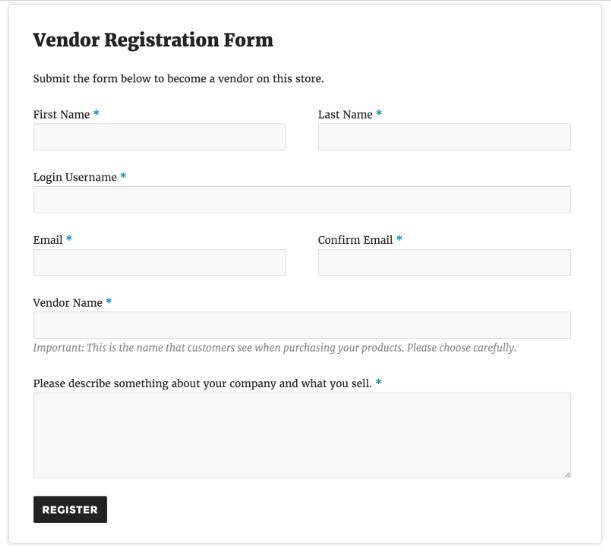 Note: The Vendor/Retailer Name must be unique and determines the name used throughout the store. If the name is taken, an error will be returned after submitting the form.
Once a Retailer has submitted the form, the Marketplace Admin gets an email notification that a vendor/retailer has applied and a user account is created for the retailer.
A status/role of Pending Vendor is assigned until the Marketplace Admin approves registration and applies a different role. There are two possible roles:
Vendor Admin – Has access to all settings.
Vendor Manager – Has limited access to the Vendor dashboard.
A vendor/retailer then receives an email stating their application has been approved, along with the username and password. They can start to set up and manage their store.
2. Vendor/Retail Store Settings
Retailers can configure settings in their store dashboard as they wish, by going to the Store Settings.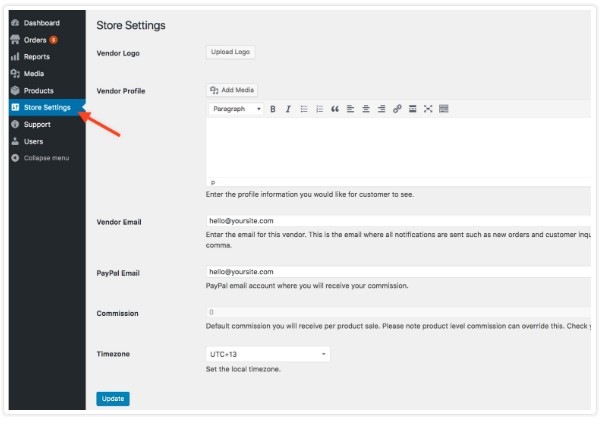 Settings fields, from the Vendor Admin dashboard:
Vendor Logo
Vendor Profile: Enter a description of you and your store.
Vendor Email: List of email addresses, separated by a comma, that receive store-related notifications.
PayPal Email: Email associated with the vendor's PayPal account, to receive payments.
Commission: This is set by the Store Owner.
Timezone: Location of the vendor store.
3. Adding your Products on the Marketplace
To add products on the Marketplace, navigate to the the product module > add products.  All users who have been granted access to your store's dashboard can add/edit products. 
All products added will need to be approved by the Mark Roberts Marketplace admin before appearing on your store's frontend.
The process is:
Retailers creates a product that is Pending Review after submission to the Mark Roberts Marketplace Administrator.
An Email will be automatically sent to the Mark Roberts Marketplace Administrator when a retailers uploads a new product for sale.
4. Reports
This module shows your store's performance.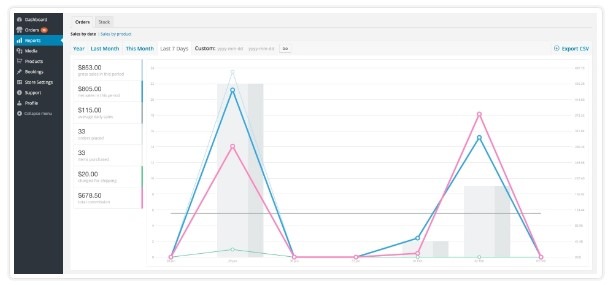 5. Product Selling Fee, Credit Card Charges, and Finance Charges
The Mark Roberts Marketplace charges the following fee for every successful orders(sale):

- Selling Fee of 6.25%
- Credit Card processing fee of 2.7%
- Finance Administrative payment processing fee of 1%
6. Roles
A Retailer can have one of two different roles:
Vendor Admin – Has access to all settings: Orders, Reports, Media, Products, Store Settings, Support (contacts the Marketplace Admin), and Profile
Vendor Manager – Has limited access to the Vendor dashboard: Orders, Media, Products, and Profile.
7. Shipping and Fulfillment
Retailers are responsible for fulfilling and shipping/sending orders after a customer has bought their product(s).
Per Product Shipping
Retailers need to set up their own shipping costs per product.  This is set in Product Data under Shipping > Shipping Rules.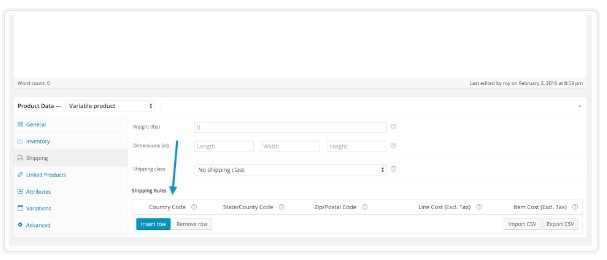 Retailers may also opt to use the Mark Roberts Standard Shipping Class:
Small Fairy or Elf - $12.95
Medium Fairy or Elf - $14.95
Large Fairy or Elf - $16.95
Collectible Santa - $18.95
Small Witch - $14.95
Large Witch - $18.95
Collectible Stocking Holder - $18.95
Ornaments and Garlands - $ 8.95
Picks - $ 6.95
8. Tax
Mark Roberts sets up and places retailers in the correct tax class with relevant rates, according to location and uses the principle of Nexus Tax - Sales Tax is collected if the customer and the retailer is in the same state, when computing for Sales Tax.
Two type of Sales Tax is automatically computed for every transaction: State Tax + Local Tax. 
Local Tax is determined by zipcode.
Shipping Tax
Applicable shipping tax is also collected at the point of purchase depending on the tax rule of the retailer's state.
9. Email Notification
Several emails are set up in the Marketplace.
Vendor Registration (Marketplace Admin) – Sent when vendor submits registration form.
Vendor Registration (Retailer) – Sent to confirm registration form was submitted to store owner.
Order Email (Retailer) – Notifies retailer of a new order.  Retailers MUST NOT fulfill an order when a new order email is recieve.  This email simply informs the retailer to allocate inventory and that Credit Card details are being processed and cleared.
Notice to Fulfill (Retailer) - Notifies retailer that an order may be fulfilled and shipped
Canceled Order Email (Retailer) – Sent to notify vendor that customer canceled.
Retailer Approval – Sent to retailers with login and password when registration is approved.
Product Added Notice – Sent to the Marketplace Administrator to review when product is added by a vendor.
Order Note to Customer – Sent to customer when vendor adds a note, e.g., Tracking number, personal thank you.